Watch Video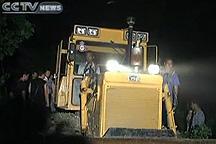 Play Video
Flood peaks of the mainstream of the Yangtze and the Hanjiang rivers, the Yangtze's largest tributary, are expected to converge in Wuhan. In nearby Xiantao City, workers have opened flood gates to divert water from the swollen Hanjiang River to an emergency reservoir.
It's late Tuesday night.
Local authorities are breaking up the dams to make way for flood waters flowing to Hanjiang River which passes Wuhan.
The authorities have also paid compensation to farmers whose fields were submerged due to the water diversion.
Yu Daoxiang, Official, Xiaotao, Hubei Province, said, "More than 460 hectares of farmland has been submerged. The compensation for each hectare is more than 7500 yuan, which is a huge investment, and the residents' losses are also big. But it's worth doing this to ensure the safety of the area."
All the efforts are aimed at easing the flood passing through the province's capital city of Wuhan, which has a population of more than 9 million.
The level of Hanjiang River is expected to surpass 30 meters, the highest in two decades, when the flood peak passes Wuhan on Friday. And the water level of the mainstream of Yangtze is forecast to rise over the danger line to 27.3 meters on Thursday.
Editor:Zhang Jingya |Source: CNTV.cn