Watch Video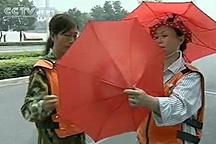 Play Video
Authorities at Jiaozuo city in Henan province have issued new protection clothing to street cleaners. The new outfits will help cleaners combat heatwaves.
At the Sanitation Division in Zhongzhan district, street cleaners are trying their newly issued "cooling vest" and "umbrella hats."
Authorities claim that the high-tech vests cost more than 200 yuan each. Four cryro-pads are placed inside a layer in the vest. After storing for five hours in the freezer, the cryro-pads can help street cleaners keep cool for 4 to 5 hours.
Qi Xiuhua, street cleaner, said, "It's like wearing an air-conditioner, makes me want to work harder."
The umbrella hats can be unfolded to shield cleaners from scorching sunshine. Authorities believe the hat, along with the cooling vest, will improve working conditions for the city's street cleaners and protect them from too much ultra violet radiation.
Editor:Zhang Jingya |Source: CNTV.cn