Watch Video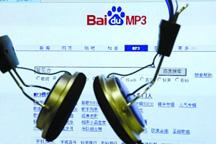 Play Video
China's number one search engine "Baidu" has been convicted of violating the copyright of fifty songs and has been fined about sixty thousand yuan for the infringement. It's the first victory for plaintiffs over similar cases in the country.
Baidu's conviction ends a two-year legal battle in court.
Analysts say the action is significant for China. A country where mp3 downloads are popular and most of the time free of charge.
Liu Ping, Deputy Secretary-General, Music Copyright Society of China, said, "Almost everybody in China knows about Baidu music search. Baidu would be the first choice for those who want free music. This is the first time in our country that music writers and records companies win copyright infringement cases against Baidu. "
In this case, the Music Copyright Society of China, which represented 14 song writers, accused Baidu of providing full lyrics to 50 songs without approval.
It filed a lawsuit in 2008, seeking a public apology from Baidu and compensation of 500 thousand yuan.
Liu said, "Our goal is to remind Internet firms to regulate their behaviors. China currently has no music download websites which have full copyright. I hope our victory will take the first step for establishing such websites. "
Record industry heavyweights including Sony BMG, Universal and Warner Music Hong Kong have also sued Baidu, but were unsuccessful. That's because the court ruled Baidu was providing links to third party websites, rather than their own.
Editor:Zhang Jingya |Source: CNTV.cn