News Recap: The Beijing National Aquatics Center, better known as the Water Cube, has been closed for reconstruction since last October. Now after nine months, the Water Cube is ready to reopen to public. Full Story>>
Watch Video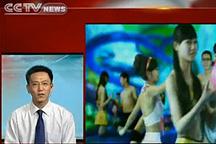 Play Video
To further discuss the post-games use of Olympic facilities, let's go back to our current affairs commentator Professor Xie Tao.
Public access VS. financial feasibility
1. Professor Xie, tickets to the newly constructed water park inside the National Swimming Center cost 200 yuan. We've already heard residents complaining about the high price. How do you see the balance between public accessibility and financial feasibility of running the facility?
Other ways to return the investment
2. After the Beijing Olympics ended in a grand finale, the government's next challenge was to find a post-games use for facilities. Apart from selling tickets to the venues, do you think there are other ways to increase revenue?
Reporter: Beijing's Water Cube makes new splash!
Editor:Zhang Jingya |Source: CNTV.cn