Watch Video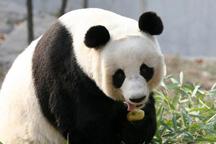 Play Video
A man has been detained over the death of panda "Quan Quan" in the Jinan Zoo in Shandong Province. Police say the man disinfected a former air raid shelter during a gas leak, which poisoned and killed the panda. The tragic incident has caused doubts over the zoo's management and cleaning methods.
An air pipe connected between the former air raid shelter and panda house pumps cool air into the animal's enclosure. It's so they can stay cool during the scorching summer heat.
The zoo says the air pipe between the shelter and panda house has been there since 1995.
But, a worker at the local civil air defense office in Jinan's Tianqiao district has a different story.
Staff of Civil Air Defense Office, Jinan, Shandong Province, said, "We didn't know there was an air pipe set-up between the shelter and panda house. It is not on the zoo's design papers."
And the shelter was designed long before 1995.
The civil air defense office says it had no idea the zoo had connected an air pipe to pump cool air into the panda house.
Lawyers say the man who is in police custody shouldn't be the only one responsible for the panda's death.
Liu Jiandong, Lawyer, Shandong Province, said, "The keepers in the panda house share part of the responsibility for being slack over their job. If the civil air defense office knew the zoo was pumping cool air into the panda house they could have specified rules on how to do it."
Just because a man is in custody doesn't mean the case is over.
A debate over regulation on air raid shelter use is sure to follow.
Related stories
Editor:Zhang Jingya |Source: CNTV.cn