Watch Video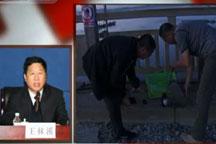 Play Video
[News Recap] About 7,000 chemical barrels have been swept into a major river in northeast China's Jilin Province. The containers ended up in the Songhua River in Jilin City. Three-thousand were filled with chemicals while the rest are empty. Full Story>>
Earlier CCTV spoke to Wang Linxi, deputy chief of Jilin Environmental Protection Bureau about the effects of the chemical barrel spill.
Wang Linxi said, "The figures we have shown that the PH value of the water of the Songhua River is between 6.8 and 7.3. This is within the normal level of 6 to 9. We have also asked chemical experts to evaluate the impact of the chemicals.
All of the barrels we've collected so far are still sealed. Even if there are leakages, barrels were gradually swept into the river and therefore the level of chemicals would be low compared with the volume of water in the river. There could be more chemicals in places where the river bends, but those places are not where people collect drinking water from."
Related stories
Editor:Du Xiaodan |Source: CNTV