Watch Video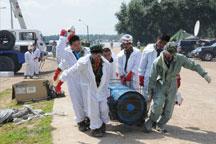 Play Video
The news of floating barrels has raised the panic levels among residents. Many started to store bottled water in case the town's water supply would be affected. The local government quickly took action to relieve tense nerves.
The site of thousands of floating barrels on the Songhua River triggered panic among Jilin residents. Many worry the containers may contaminate their drinking water.
The water supply being cut off in parts of the City did nothing to ease residents' suspicions.
The rumor soon spread. Water became a hot commodity in local shops and supermarkets. Bottled water, underground water and water melon were the objects of the affection of panicked residents.
To relieve tense nerves, the local government quickly took action to transport bottled water and food to Jilin. At one local supermarket, prices of food and bottled water remain the same. The head of the store says, they will try their best to keep prices stable.
Lin Donghui, Head of Rr-Market, said, "I want to tell all citizens that our storage is enough. We transported three trucks of instant noodles and 200 thousand bottles of water from Shenyang. We ensure we will not raise prices. We hope citizens can calm down."
Related stories