Watch Video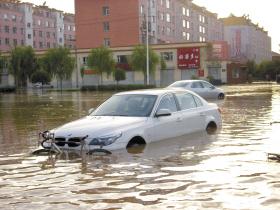 Play Video
Heavy rain has pounded Northeast China's Jilin Province, triggering severe floods in three major rivers. Yongji County is among the hardest hit areas.
The dyke of Yongji county was submerged by rising water and the county was flooded.
In some places, living above the first floor was not enough to avoid the water.
A local resident said, "I live on the second floor and the water was rising into my apartment. I hear the water reached the third floor of the hospital over there"
Many people were forced to evacuate. Rescue crews are trying to help those who are stranded.
Firefighters waded through water with boats to rescue them.
Chi Shuming, Firefighter, Yongji County, Jinlin Province, said, A lot of debris scattered on the streets is floating in the water. The boat is easily flipped if we are not pushing it.
However, the current in the flooded streets was too fast and it became dangerous to use the boat. Helicopters were brought in.
Several counties have been submerged by fast running water in Dunhua city. The strong rain also caused a landslide along the 201 National Highway.
Eastern, southern and central parts of Jilin Province have been plagued by torrential rain. The provincial government has issued a second level alarm. Emergency teams have been mobilized. Lifeboats, sandbags and other relief materials are being rushed to the rain-hit areas.
Local meteorological authority says the rain is expected to stop Thursday night.
Editor:Zhang Jingya |Source: CNTV.cn