Watch Video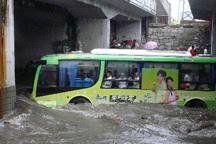 Play Video
River levels in Wuhan reached the warning line Thursday morning. The city and its more than 9 million habitants are bracing for the possibility of flooding.
Wuhan, the capital of Hubei province, sits at the confluence of the Yangtze and Hanjiang rivers.
As the high water crests of both rivers merged, the level in the city reached the danger line of 27.3 meters at 11 o'clock Thursday morning -- the highest since 2003.
The volume of water flowing through the city increased to more 56-thousand cubic meters per second.
Jiang Tiebing, Head of Wuhan Water Authority, said, "It is the first time that the Yangtze River reached such a high water level since the Three Gorges Dam went into service. The level of Hanjiang River has reached the second highest point in historical records."
The water gates along the river were sealed with cement and sand. And all crossings by ferries were suspended for safety reasons.
Local authorities also sent supervisors and flood prevention supplies to the key spots to ensure the high water peaks pass the city smoothly.
Jiang said, "We have several people supervising at every mile and water gate around the clock."
Meanwhile, the local authority says the flood peak has passed along the Hanjiang river peacefully. The water rate in Hanchuan city dropped to 31.65 meters, which is below the danger level.
The Danjiangkou reservoir played an important role in easing the volume of the water in the middle and lower parts of the Hanjiang River.
There is rainfall forecast in the upper reaches of the Yangtze River, and flood prevention plans will be adjusted to deal with renewed flows of high water.
Editor:Zhang Jingya |Source: CNTV.cn