Watch Video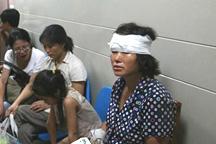 Play Video
More than one hundred people who suffered fractures and burns in the blast have been admitted to local hospitals. Blood banks are in dire need of supplies. As Ren Ting tells, the people of Nanjing have sprung into action to help the survivors.
All Nanjing's major hospitals are on round the clock standby.
Zhao Hongxing, Official, Nanjing Health Bureau, said, "The patients are mostly suffering from fractures, burns and brain injuries. We've set up expert teams to look after them. The treatment is working well. Some patients in a coma have come round today. We'll do our best. "
14 patients are in a critical condition. Only one of them has still not been identified. Due to the large number of people injured, blood is urgently needed at all Nanjing hospitals, especially types A and O. Local residents have gathered at 12 bloodmobiles to offer help.
A local resident said, "I saw people donating blood here. I think they must be in need of blood. I have not donated before, and it is an experience. I am young and healthy and I believe it will not affect me much."
In addition to local residents, visitors to Nanjing also offered to donate.
A Nanjing visitor, said, "I came to Nanjing on business. Blood is needed for the blast injuries, so I came to give blood."
So far, more than 1-thousand people have donated blood of more than 350-thousand milliliters.
Medical staff test and classify the blood immediately before sending it to the hospitals.
Editor:Zhang Jingya |Source: CNTV.cn