Watch Video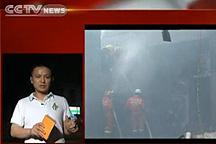 Play Video
Recap: A powerful blast ripped through a plastic plant and neighbouring compounds in Nanjing on Wednesday, killing at least 10 people and injuring hundreds, 14 of them critically. Full Story>>
For the latest on the accident, we are joined by our reporter Feng Jinchao who's in Nanjing.
1. Hello. Feng Jinchao! First, can you tell us what is the latest situation there?
2. From what you've seen, can you tell us exactly how powerful was the blast?
3. And finally, how have the locals reacted to the accident?
Thanks for the update. That's our reporter Feng Jinchao in Nanjing with the latest on the factory blast.
Editor:Zhang Jingya |Source: CNTV.cn