Watch Video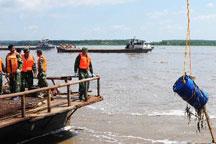 Play Video
The torrential rains in northeast China's Jilin Province have come to a halt. This has helped speed up relief efforts in some of the worst-hit areas. Earlier, Wang Guan traveled to a county that was totally submerged in water just 3 days ago, to see how people are dealing with their losses.
This is the only thing the floods didn't wash away. Even this dress was picked from a garbage the next day.
Li was a restaurant owner in Yongji, which was hit by a fierce flood around midnight on Wednesday. The whole place was submerged in water, and at least 30 people were killed.
Now local residents like Li Fenghua have to start from scratch.
Although a massive clean-up organized by local government is going on, Li is still concerned if and when she will be subsidized for the loss of her store.
Li said, "I hope the government can help us rebuild our lives. This is our only wish. When the central government maps out a relief program, I hope it will be implemented in this town so ordinary folks like me really get the subsidies and benefits."
Like all major disasters, Chinese soldiers are again at the
forefront cleaning up the mess. Most of them were born after 1980, some even in the 1990s. Described by some as "rebellious and spoiled," these young soldiers now show much devotion and tenacity.
Local authorities say while the massive clean-up and disinfection of the disaster sites are in operation, they are also preparing for the next phase in the relief work.
Fu Rongguo, Deputy Director, Yongji county Bureau of Publicity, said, "County planning officials have surveyed many sites, and chose three as candidate locations to build new houses for homeless residents. We will ensure that, before winter comes, they will live in spacious and warm houses again. Also, we will rebuild the roads and other infrastructure. Our goal is to finish doing all these in the next two months."
This relocation center is, in fact, a local middle school. School authorities have extended the students' summer holiday so affected families can stay.
Meanwhile, help has arrived from across the province. Some people drove hours to this town just to drop some cases of bottled water and food. When we asked if we could interview them, they declined and simply said the flood victims are their fellow people, and this is the least they can do.
The care and love in this relocation center has made the lives of these homeless people easier. But still, here and there, you feel their anguish. After all, the loss of the houses, which has been their home for many generations, will be an enduring pain.
Related stories
Editor:Zhang Jingya |Source: CNTV.cn