Watch Video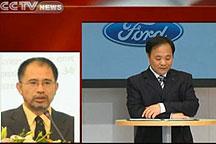 Play Video
For more analysis of the significance of this takeover to the Chinese auto industry as a whole, we are joined on the phone by Professor Liu Baocheng from the University of International Business and Economics.
How does Geely assimilate Volvo?
1. Good evening Professor Liu. What are the key factors that will decide whether Geely can make a success of Volvo, after taking the company under its wing?
Growth strategy for Chinese auto-makers
2. What do you think is the best strategy for Chinese auto makers to achieve growth? Independent research and development, or faster expansion through merger and acquisition?
Editor:Zhang Jingya |Source: CNTV.cn