Watch Video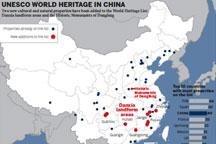 Play Video
The UNESCO World Heritage Committee has agreed to add the "Danxia landforms" of China to its World Heritage List. The six geologically related landscapes feature in six separate Chinese provinces.
China's Shaolin Temple was also included on the heritage list as a cultural site, at the Committee's 34th meeting in the Brazilian capital Brasilia.
The home of Chinese Kung Fu and Zen Buddhism, the Shaolin Temple, was added to the World Heritage List Sunday morning.
The good news travelled quickly back to its hometown - Central China's Dengfeng City, in Henan Province.
Residents held a series of celebration activities.
They performed on local instruments, and danced to express their happiness.
A resident in Dengfeng city said, Right now, I feel so happy and so proud to be from Dengfeng.
Another resident said, I feel happy and proud, I think we need to popularize our great culture and great heritage. It is our responsibility.
The Shaolin Temple is famous for its aesthetic beauty, and is the birthplace of one of the world's oldest martial arts. Over the centuries, it's ancient architecture has focused the world's attention on Chinese martial arts and philosophy.
Built during the Northern Wei Dynasty more than 15-hundred years ago, the Shaolin Temple boasts a treasure trove of priceless relics, tablet inscriptions, and buildings, featuring the architectural styles of the Ming and the Qing dynasties.
Henan's Provincial government began its bid to place the Shaolin Temple on the World Heritage List nine years ago. And their efforts have finally paid off.
After waiting one day longer to hear its decision, China's natural Danxia Landforms were given the nod of approval by the UNESCO committee on Monday. The vice head of the Danxia delegation says it's not just about success, it is now about responsibility.
Li Rusheng, Vice Head of Danxia Delegation, said, I didn't feel relief after this, however, I feel more responsibility and commitment.
This year, the six provinces of Hunan, Guangdong, Fujian, Jiangxi, Guizhou and Zhejiang jointly applied for World Heritage status for the Danxia landscape sites. "Danxia" is a recently defined and recognized geological feature. It consists of a red bed characterized by steep cliffs. It's formed from red-colored sandstone and conglomerates mainly from the Cretaceous age.
The floating peaks in the 2010 blockbuster "Avatar", which were called the "Hallelujah Mountains" are said to have been inspired by China's Danxia landscape. But when you're actually here, you don't need 3D glasses to enjoy the fantastic scenery.
Related stories
Editor:Zhang Jingya |Source: CNTV.cn