Watch Video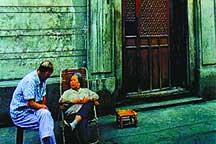 Play Video
Cantonese is not the only dialect in China facing challenges. The Shanghai dialect is also bracing for a decline. Local residents are calling for more efforts to preserve one of the most essential elements of their traditional culture.
Zhou Libo, one of Shanghai's favorite comedians, is best known for delivering his act in Shanghai dialect, and lampooning just about everyone. One of his most popular shows is themed around preserving the Shanghai dialect. As a Shanghai resident himself, Zhou Libo said he noticed the downfall of the local dialect since the founding of New China.
Zhou Libo, Shanghai Comedian, said, "After the reforms and opening-up, people don't stay in one place. They migrate to other places. When you go to a local restaurant, you don't speak the Shanghai dialect. Because no one would understand you. This is the price we pay to become more global."
Shanghainese is not only being used less in public places, it's also being spoken less in the daily lives of the city's residents, especially among the young. 23-year-old Gu Jingquan, a native-born Shanghainese, feels the local dialect is now just a small part of the city's daily language use.
Gu Jianquan, Shanghai resident, said, Because of my work, I use more Mandarin and English, bust less and less of the Shanghai dialect. Sometimes, I feel confused and I will add some Mandarin words when speaking the Shanghai dialect.
Scholars have also taken notice of the dialect's decline. Yu Hai, a Professor from the Department of Sociology in Fudan University, talked about the popularity of the Shanghai dialect in the local comedy scene.
But he added that the dialect is never used in local news programs and broadcasting; saying many of the city's residents are starting to think in Mandarin. He sees it as a sign that the Shanghai dialect is declining.
Professor Yu Hai, Fudan University, said, "The Shanghai dialect is losing its creativity. It is getting poorer and poorer."
Facing the decline, some Shanghai residents are showing their eagerness to protect it.
Gu Jingquan, Shanghai resident, said, Although the Shanghai dialect is a small part of our daily life, we shouldn't give it up; we should keep it.
Professor Yu said, I suggest the Education Community to add texts in the Shanghai dialect in collateral reading for elementary schools, which wouldn't puzzle the students with Mandarin.
Along the old lanes and roads in Shanghai, we can still see lots of Shikumen Building, which reflect the city's unique style. But it's hard to hear any of their inhabitants speak the local dialect without injecting a word in Mandarin or English.
Shanghai residents may be open-minded, but they worry about losing their linguistic heritage, and are making efforts to protect it. For without its unique dialect, Shanghai's unique culture could be at a loss for words.
Related stories
Editor:Zhang Jingya |Source: CNTV.cn