Watch Video
Play Video
Premier Wen Jiabao has inspected disaster relief work in flood-hit Jilin province in northeast China. He went to Yongji County, one of the worst affected areas, to pledge the government's full support.
Heavy rains have destroyed half of the major bridges and much of the river banks in Yongji County.
Premier Wen is concerned about the city's ability to defend itself from the flood waters.
Premier Wen said, "We will face yet another round of torrential rains and flooding. We must be well prepared. Without delay, we will reinforce dykes and dams, to ensure the safety of people's lives."
Local's everyday lives are also one of Wen Jiabao's major concerns.
He went to an emergency shelter and talked to people who lost their homes in the floods. He told them to have trust in the government.
Premier Wen said, "We still have 2 or 3 months before winter arrives. Please trust us. We will provide houses for every family."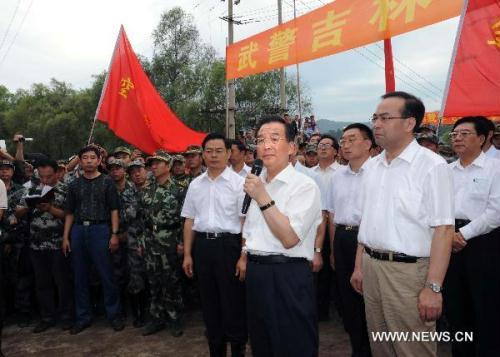 Chinese Premier Wen Jiabao (2nd R, front), who is also a member of the Standing
Committee of the Political Bureau of the Communist Party of China Central
Committee, addresses soldiers and local people in the flood-hit area in Yongji
County of Jilin City, northeast China's Jilin Province on Aug. 3, 2010. Wen Jiabao
visited Jilin Province to inspect the flood control operations on Tuesday and
Wednesday. (Xinhua/Li Tao)