Watch Video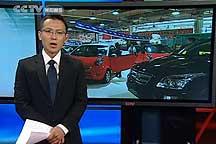 Play Video
1. Were there many people out and about buying cars?
It was a rainy day in Beijing today, so the rain probably kept many buyers away. But, the sales staff in one showroom told me they have been getting a consistent number of buyers everyday. They say the buyers are just looking around at the moment, rather than buying. So, a tough job for the salesmen.
Figures from China's Association of Auto Manufacturers shows that 1.44 million passenger and commercial vehicles were sold in China last month. That's 7.5 percent lower than sales in April. All vehicle models saw month-on-month declines.
An inventory shows an increase of nearly 120,000 vehicles from April to reach 1.11 million units at the end of last month. This refers to the time the car is made, up until it is sold.
So far, all parts admit the inventory is so far normal and acceptable. But it all depends on the amount of sales in the near future. If the situation remains over the next two or three months, it will be very abnormal and unacceptable.
2. What has caused this slump in auto sales? Is the industry confident of bouncing back?
I think there are three main points on this.
Firstly, and the most important, the automakers have set targets probably too high. Last year, they were probably spot on. But, that isn't the case this year. So that's the first reason. High production and lower sales have resulted in increased inventories of cars.
Secondly, there is no longer preferential policies for buying cars. This year's reduction of the car purchase tax is just half of that last year. Some other policies have not had the expected and desired effect. Finally, now is the off season, so it is normal that sales usually slow.
So, I think the auto market will rebound. Automakers have adjusted their production plans. For example, BYD, a local automaker, aimed to produce 800,000 vehicles for sale. Yesterday, BYD announced it will cut 200,000 units from its target this year. This cut will help decrease the inventories.
In China, car dealers always look forward to September and October because that is their golden months for sales. It's when they release more discounts and premiums, and buyers rush in to buy their favorite car.
Related stories
Editor:Zhang Jingya |Source: CNTV.cn