Watch Video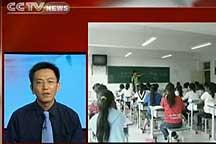 Play Video
Background: Unlike technical schools that turn migrant laborers into entry-level assembly line workers, top flight occupational schools are the birthplace of experienced industry professionals with both the skill and the know-how. Educators believe these schools are vital to meeting the huge market demand for highly skilled workers. Full Story >>
To further discuss occupational education in China, let's go back to our current affairs commentator Professor Xie Tao.
Skilled worders form industry backbone
1. Professor, what is the significance and quantity and quality of China's skilled workers?
Huge demand VS. meager supply
2. If you ask a Chinese child what they want to become when they grow up, you'd probably get a response like scientist, an official or a businessman. Blue-collar workers are probably among the last few options. So on the one hand, there's a huge demand for skilled workers. But, on the other hand, almost nobody wants to become one. How do we address that?
Related stories
Editor:Zhang Jingya |Source: CNTV.cn