Watch Video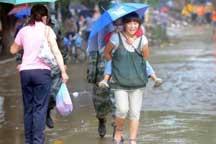 Play Video
Torrential rainfall has again hit northeast China's Jilin province. The receding water levels along the Songhua River and its numerous tributaries are again rising above alert levels.
But this time, local flood prevention authorities are better prepared. They have consolidated most of the vulnerable riverbanks and relocated residents downstream.
Reporter Wang Guan said, "This is Shi Tou Kou Tai, a major reservoir near the provincial capital Changchun. Here the largest rainfall has been forecast for today and tomorrow. As you can see, the water level has risen by nearly two meters since yesterday. That puts a lot of pressure on villages, farmlands and residents downstream."
Located in the upper reaches, this reservoir regulates water flow along the Songhua river and prevents downstream cities and rural areas from being flooded.
With all the floodgates open, the speed of water being discharged is now 650 cubic meters per second. During last week's torrential rains, it peaked at 700 cubic meters per second.
Although both figures are close to capacity, this reservoir still holds 25 percent more water than it releases.
We talked to He Guoxing, director of this reservoir and asked him how they are coping with more rain.
He Guoxing, Director, Shitou Koumen Reservoir, said, "The average rainfall in the upper stream of Songhua river is 300 millimeters. It is raining in the upper reaches as we speak. So precipitation may increase to 330 millimeters. Water reserves at this reservoir have significantly increased. However, this round of rainfall is not likely to put as much pressure to downstream areas as the previous round did."
We drove hours along the middle and lower reaches of Songhua River, and only managed to find one village preparing for the worst.
Instead of hectic rescue scenes, relief teams are working in an orderly manner. We were told that the sand bags were sent in four days ago to battle in preparation for this rain. As soon as they detected rising water levels, they started consolidating the banks.
Song Yinzhuo, Director, Songhua Jiang Flood Prevention Center, said, "We are facing attacks from two sources. One is that Fengman reservoir releases some 4500 cubic meters of water per second and the speed may increase. Secondly, Changchun will have between 100 to 170 millimeters of rain, which will go down to low-lying areas. In the past, we only focused on preventing flood in the main rivers, now we also need to prevent heavy rain that merges into these rivers."
Jilin's Flood prevention command says so far damage to infrastructure has been minimal.
There have also been no reports of injuries or casualties.
The weather bureau forecasts rain to stop on Friday, giving authorities and residents a temporary victory to this devastating natural disaster.
Editor:Zhang Jingya |Source: CNTV.cn