Watch Video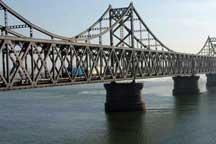 Play Video
Torrential rainfall in Liaoning is aggravating floods there. Weather authorities are warning residents to avoid going to mountainous areas and be cautious of landslides.
In Shenyang city, the capital of Liaoning province, more than 100 millimeters of rain has fallen. Waterlogged roads have dramatically slowed traffic.
The city's central meteorological observatory is closely monitoring the situation.
Yuan Zipeng, Chief forecaster, Shenyang Central Meteorological Observatory, said, "Generally, the precipitation this time is quite heavy. Areas like Shenyang and Tieling will record rainfall of more than 100 millimeters. By the night of August 5th, the rain-clouds will move eastwards."
In Dandong city, the floodgates of a local reservoir have been opened. This will allow the reservoir to free some of its capacity in preparation for the predicted heavy rainfall. However, the discharged water has created a small flood peak and almost destroyed a bridge.
Water traffic has been suspended on the Yalu River. PLA soldiers and local residents have been mobilized. Shops near the bank have prepared sandbags as makeshift barricades in case the river water breaks loose.
Related stories
Editor:Zhang Jingya |Source: CNTV.cn