Watch Video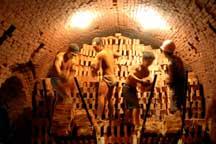 Play Video
The scorching hot weather is making many tough jobs even harder in heatwave, which has affected parts of the country. Electro-welding is one of those jobs. But, to combat the heat and look after their health, the welders wear air-conditioned clothes to stay cool.
Electro-welding is an occupation where working in hot conditions is the norm. Workers not only face extreme heat from their equipment, but they also have to wear thick clothes so they don't get burnt.
To prevent workers from getting heat stroke and other related illnesses, an electro-welding company in Shaoxing is handing out air-conditioner clothes. This keeps their body temperature regulated at a very cool 19 degrees Celsius.
Li Hongxi, Electro-welding worker, said, The electro-welding machine is over 2 thousand degrees, and you have to stand within 1 meter of it. Add that to the hot weather and of course you are struggling. But, wearing the new clothes, I'm nice and cool.
But, this company goes above and beyond the call of duty. They also encourage their workers to take 2 showers a day, they're given free cold drinks and work a shorter day.
These new measures are definitely paying off. The workers are happier meaning monthly production has almost tripled.
Editor:Zhang Jingya |Source: CNTV.cn