Watch Video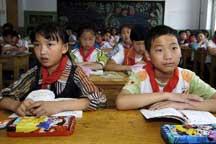 Play Video
Providing equal opportunities in education is a highlight of China's newly released ten-year plan. The country has realized the need to resolve deep-rooted problems like un-affordable school fees.
But free education for all is still an ideal that is unreachable. In Guangdong province however, a small township is making the dream a reality by providing free education from kindergarten to college.
Aside from its neighbors in Guangdong province, what makes people in Shipai township proud is not its GDP growth, but its education.
As the nation is still discussing whether or not to include kindergarten schools into the country's compulsory educational system, Shipai township is taking a step forward.
All its children are enjoying free education at kindergarten, and this policy benefits both local residents and migrants.
As a migrant businessman from Guizhou Province, Yang Bo feels lucky for her young daughter.
A parent Yang Bo said, "My daughter's education has been a burden on me since she was born. I didn't think she could enjoy the benefits of the free education policy. Now I don't need to worry. At least my child won't lose at the starting line. "
In many Chinese parents' eyes, a good beginning in education means a lot for a child's future.
But before the new policy was released, many parents in Shipai had given up their children's pre-school education, due to the high fees.
Mai Liming, teacher of Central Kindergarten, Shipai, said, "At that time, most parents didn't send their children to kindergarten at the entry age of three, as they couldn't afford the fees. Now, all children from three to six years old can enjoy free education. So there are now more children here."
Pre-school education is only a small part of the township's free educational plan. In 2007, Shipai government announced a 25-year free educational scheme, providing subsidies on a child's educational fees from kindergarten to doctoral degrees at college. The subsidies ranges from three to ten thousand yuan per year.
This is also good news for Deng Yonghui, whose family suffers the burden of the fees for its three children. Deng has just been enrolled into Peking University. The government subsidies have eased all his worries.
Student Deng Yonghui said, "I feel so lucky that I can benefit from the free education policy. I'll receive six thousand yuan per year, which can cover all my tuition fees and cost of living in college."
The free-education policy has brought more confidence and hope for students like Deng, and perhaps a brighter future for the small town.
Related stories
Editor:Zhang Jingya |Source: CNTV.cn