Watch Video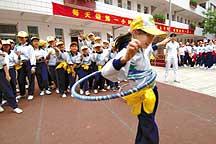 Play Video
With a population of less than 42 thousand people, Shipai was once a small township with a high proportion of under-educated people. But, its free education policy has changed local residents' minds on getting a good education.
Five years ago, Shipai was perceived as a under-developed township with under-educated people.
Zhai Chongbi, Party Secretary, Shipai Township, said, "We had no money at all, and very few people think of higher education. Most people didn't reach higher school, let alone college."
The reform began five years ago, when the township's government took measures to combine small schools and kindergartens into public and privately-run bigger ones lifting the standard of education.
But, high tuition fees kept many students away from the classroom. Financial support was badly needed.
Zhai said, "We made a calculation. Each year, 400 children were born in our township. Their tuition fees from kindergarten to college would altogether be 20 million yuan. This is only a small portion of our financial income each year, and is equivalent to the investment on any project."
The township decided to invest 20 million yuan per year on free-education, an investment without near-term gains, but one that would create long-term benefits for its people.
In 2008, the township government released a regulation to confirm plans and financial subsidies.
The policy has largely promoted people's will to be educated. In just a few years, the number of students entering college increased from zero to almost 200, with some going to the country's top universities.
Now, Shipai has also extended its free-education policy to 140 thousand migrant residents.
With the country's ambitious strategy for more equal and affordable education, Shipai has become a successful model being used by others
Related stories
Editor:Zhang Jingya |Source: CNTV.cn