Watch Video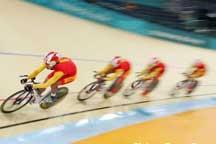 Play Video
Chinese athletes are fine-tuning their fitness in preparation for the games in different parts of the country. It's so they can be at their physical peak during competition time and hopefully be a step closer to winning gold.
This is the first training session Olympic champion Liu Xiang has had since finishing rehabilitation work in the US.
To help regain and rebuild his muscle strength, Liu Xiang is trying an unconventional method by hopping in and out of steam baths jumping between scorching hot and freezing cold.
Badminton star Lin Dan is aiming for his first Asian Games gold. He has attended most matches in previous tournaments to keep up his competitiveness. And he hasn't lost one match.
Lin said, "Many friends are hoping that I can win a gold medal. But for me, I just need to do my best."
China's weight-lifting team, fencing team and gymnastic team have all chosen training centers away from the hustle and bustle of the city.
Fencer Jiang Yajing said, "It felt completely different, the moment I stepped into the center. Being close to nature really helps me be more devoted to training."
Some of them have even developed new hobbies during the training.
Fencer Zhu Yangdong said, "I gradually came to love fishing. It's very similar to fencing. One second before, you have everything under control. Then, one second later, you could lose everything because you failed to seize the opportunity."
So, this shows the Chinese athletes are preparing for the Asian Games in many different ways in different places. But, they all share one goal. To do their best at the games.
Editor:Zhang Jingya |Source: CNTV.cn