Watch Video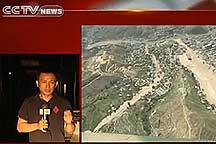 Play Video
Updates: Death toll from Zhouqu mudslides rises to 337
According to Monday's figures, the death toll from rain-triggered mudslides in Zhouqu County of northwest China's Gansu Province has risen to 337. 1,148 others are still missing. Full Story>>
For the latest on the situation in Zhouqu county, we are joined on the phone by our reporter Feng Jinchao, who's there.
Rescue and relief efforts in Zhouqu
1: Good evening Feng Jinchao. How's rescue and relief efforts going in Zhouqu?
How are local residents coping?
2: Can you give us a sense of how local residents are coping with this shocking natural disaster?
More CCTV Reporters
Editor:Zhang Jingya |Source: CNTV.cn