Watch Video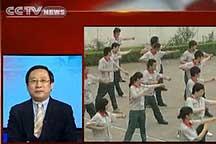 Play Video
Background: Workplace exercise resumes in Beijing
The practice of workplace exercise has resumed. For almost every Chinese person, it's an integral part of the work day. A chance to stop work for 10 minutes and do some exercises to try and stay fit and beat fatigue. Full Story>>
To further discuss China's workplace exercise, we're joined by our current affairs commentator Dr. Gao Zhikai.
Benefits of workplace exercise
1: Dr. Gao, have you taken part in workplace exercise before? What are the benefits?
Does exercise increase productivity?
2: Why does the government recommend these workplace workouts for employees? Do you think it has a positive impact on workers' productivity?
Editor:Zhang Jingya |Source: CNTV.cn