Watch Video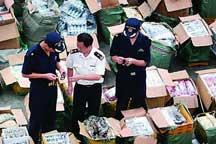 Play Video
In the past, international purchasing companies have been able to avoid taxes. This has pushed up direct post and overseas purchasing charges. Under the new regulation, stricter supervision will be put on items with the overseas purchasing business facing an overhaul.
This is Beijing's International Post Office.
Everyday, about 10 thousand parcels are processed here, along with Customs on the same site.
Each and every overseas parcel is unwrapped and checked. In this one, the sender states there are just books in it. But, Customs officers find costumes and nutrition tablets.
Wu Haidong, Postal Service Supervision, Beijing Customs, said, "These nutrition tablets can last for 2 to 3 years. We assume it is not just for one person, or even a family. It is a suspicion trade."
Customs also analyses and follows some suspicious parcels.
Wu said, "For example, if a receiver gets the same or similar parcels everyday and every week. It's way beyond personal use. So we consider him a suspect of overseas trading."
As the duty collection point starts from 50 Yuan under the new regulations, it's impossible to avoid tax by putting goods in smaller parcels.
Huang Yi, Gerneral Customs Office, said, "As a business, they need to consider cost. Putting things in smaller parcels would increase postal fee."
Customs say after the crackdown is introduced some overseas purchase agents will change from post to passengers to import their goods.
So, all ports have also been strengthened to check all incoming baggage.
Editor:Zhang Jingya |Source: CNTV.cn