Watch Video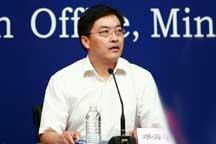 Play Video
The Health Ministry has instructed food safety authorities in Hubei Province to investigate claims that milk powder caused three baby girls to grow breasts. Their parents blame the manufacturer and say it affected their daughters' development.
In early July, the parents of three baby girls in Wuhan took their children to hospitals for physical examinations. They were concerned their daughters had grown breasts. Medical tests revealed the girls contained certain hormones which exceeded those of the average adult women.
All the infants, ranging from four to fifteen months, had been fed with the same batch of milk powder produced by Syrutra, a Qingdao-based company.
On Tuesday, the Health Ministry launched an investigation with food safety experts testing samples of the infant formula.
Deng Haihua, Spokesman of Health Ministry, said, "Food safety authorities in Hubei have ordered inspections. Tests on samples of the milk powder has begun. Medical experts are also diagnosing the symptoms of the female babies. We're analyzing the connections between the babies' early maturity and the infant formula. "
Deng says the causes for early maturity in babies was complicated and could be caused by a wide range of factors.
Experts had no way to definitely determine if food or environmental factors were involved.
China's regulations forbid the use of hormones in the original source and production procedures of milk powders. There is also strict criteria for testing the product before it hits the shelves.
Deng said, "Hormones are not allowed in milk powder products. Hubei province has the technology to test whether infant formula contains hormones. Hubei is investigating whether this batch of formula contained hormones and still passed safety tests. "
Two years ago, tainted milk powder killed six babies. The whole country was put on alert. This time, parents are again fearing the safety of infant formula they buy. A similar early maturity case was also reported this week in Beijing.
Related stories
Editor:Zhang Jingya |Source: CNTV.cn