Watch Video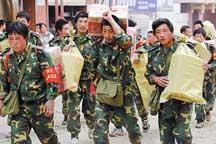 Play Video
Relief supplies and financial aid is being distributed to those in need in Gansu Province. China's Red Cross, along with government authorities, are helping to deliver money, food, water, tents and warm bedding.
From today, landslide victims will receive a daily payment of 150 yuan over the next two weeks.
Relatives of the dead are eligible to collect 8 thousand yuan.
Financial aid is also being handed out to victims whose houses were damaged or destroyed.
Officials say they are there for the long-haul to help local residents affected by this tragedy. The relief won't end for at least the next 3 months.
Shanghai's Red Cross was among the first to send money and supplies to the scene. Rescue packages worth over 350 thousand yuan were sent overnight to the victims.
Tang Zhaoxiang, Vice Head of Shanghai Red Cross, said, "The emergency aid packages included tents, quilts and medical supplies. They are all for victims left homeless."
Hong Kong SAR is also lending a hand. 384 thousand yuan in relief supplies has been sent and arrived at the scene. Hong Kong volunteers worked through the night to package up 5-thousand boxes of instant noodles and 7-thousand boxes of bottled water.
Other provinces like Shaanxi, Sichuan, Yun'nan and Guangdong are all showing great concern for the victims. Millions of aid funds and supplies are being sent.
This nationwide cooperation will help the victims of the natural disaster get back on their feet and try and move on with their life.
Related stories
Editor:Zhang Jingya |Source: CNTV.cn