Watch Video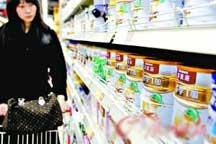 Play Video
In 2008, China's dairy industry was hit by tainted milk products, which killed at least six children and made hundreds of thousands of others sick. Since then, authorities have stepped up measures to regulate the industry and prevent this from happening again. Here's a brief look at what's being done to ensure food safety.
At the beginning of this year, the central government dispatched eight inspection working groups to over a dozen provincial areas.
This was to investigate and stop the use of the harmful chemical substance, melamine in powdered milk products. Investigations showed ten tons of tainted milk powder leftover from the 2008 scandal had been illegally sold to dairy producers.
In February, over 25,000 tons of milk powder was recalled during a ten day nationwide crackdown on melamine-tainted products. Two dairy firms were closed.
In April, a milk company was ordered to suspend production after its milk was blamed for making about 200 middle and primary school students in Shaanxi province sick.
In May, the Ministry of Education and the State Food and Drug Administration jointly launched an eight month campaign to ensure food safety in schools.
In early July, a draft of rules designed to protect food safety opened for public debate. This would be the first systematic regulation concerning the safety of exported and imported food. Dairy products were at the center of the draft rules.
Officials lowered dairy plants' required protein levels for raw milk as a way of discouraging farmers from adding industrial chemicals to bolster protein-test readings.
In late July, the Ministry of Health issued a regulation prohibiting the use of edible flavorings in certain foodstuffs such as infant formula and pure dairy products.
Related stories
Editor:Zhang Jingya |Source: CNTV.cn