Watch Video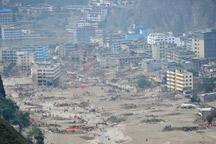 Play Video
As of Wednesday afternoon, the massive landslide in Zhouqu county of Southwest China's Gansu province had killed 1,117 people, with 627 still missing. Although the 72 hour golden period of rescue has passed, rescue teams have not given up hope of finding survivors.
The State Council Information office held a press conference with the latest on the rescue and relief operation in Zhouqu.
Officials from four ministries made detailed reports on the current state of the rescue operation.
Zhang Weixing, Deputy Director-General, Department of Disaster Relier, Ministry of Civil Affairs, said, So far, 1,243 people have been rescued and about 20-thousand people have been evacuated to safety."
He says the ministry's contingency plan is currently in place. It has allocated 30-thousand tents, 100-thousand cotton-padded quilts and 5-thousand sleeping bags to the disaster zone.
An official from the Ministry of Health says 422 injured have received medical treatment and those in serious condition been transferred to eight hospitals in Lanzhou and Tianshui. 799 medical workers have been canvassing the area to ward off potential diseases.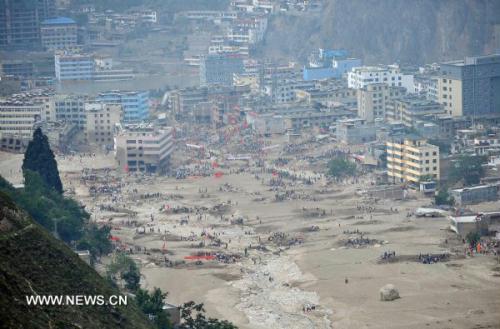 Photo taken on Aug. 11, 2010 shows the mudslide-hit area in Zhouqu County, Gannan
Tibetan Autonomous Prefecture in northwest China's Gansu Province. (Xinhua/Wang
Peng)
Zhang Guoxin, Deputy Director-General of Ministry of Health Emergency Management Office, said, 20 tons of garlic has been sent to the disaster zone to prevent intestinal infectious disease and heat stroke. At the same time, medical workers have been disinfecting corpses and water. No serious contagious diseases have been reported.
The unprecedented mudslide has also served as a wakeup call on the importance of disaster preparation and prevention.
Guan Fengjun, Director-General, Ministry of Land & Resources Dept. of Mineral Reserves, said, "We have divided the 18 provinces and regions prone to geological disasters into seven areas. 88 geology experts have been deployed there. The alarm system put in place this year has successfully predicted 688 incidents, saving the lives of many people."
Rescue workers are speeding up their efforts to search for survivors. 80 hours after the disaster, a man was pulled from a mudslide-hit building. He was immediately sent to the nearest hospital and is now in stable condition.
Related stories
Editor:Zhang Jingya |Source: CNTV.cn