Watch Video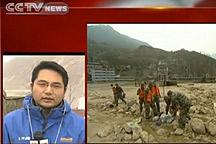 Play Video
Updates: The danger of sudden overflowing of a barrier lake in Zhouqu has been lifted after rescuers' days of hard work. Meanwhile sludge clearing and road repair are continuing in an attempt to resume transportation in the devastated county. Full Story>>
For the latest, let's cross to our reporter Yin Xiang, who's at the site of the deadly landslides.
Eliminating barrier lake threat
1: Hello, Yin Xiang. We know rescuers have been working to eliminate the danger of the barrier lake on the Baima River by triggering explosions to divert water. What is the latest there?
Getting relief supplies into Zhouqu
2: Crews worked around the clock to repair the main road leading into Zhouqu. How are relief efforts going?
More CCTV Reporters
Editor:Zhang Jingya |Source: CTNV.cn