Watch Video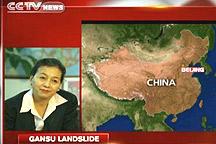 Play Video
Updates: Searches continue after 72-hour mark
Six people, including a two-year-old child, have been rescued after being trapped in buildings submerged by a barrier lake in northwest China's Gansu Province. Full Story>>
For more insight on disaster relief in Gansu, we are joined on the phone by Dr. Yinyin Nwe, the UNICEF Representative and Chair of the UN Disaster Management Team in China.
Major difficulties in rescue progress
1: From what you've observed from the rescue progress in Gansu, what are the major difficulties hampering rescue workers?
Building a stronger response mechanism
2: This summer, a series of massive natural disasters have hit several countries, such as the floods in India and Pakistan, and the landslides and flooding here in China.
In fact, the number of natural disasters is significantly higher than in recent years. Is there any plan underway in the United Nations for a stronger international mechanism to assist with disaster relief and rescue in China?
Editor:Zhang Jingya |Source: CNTV.cn