Watch Video
Play Video
The landslide in northwest China's Gansu Province has killed hundreds of people, and destroyed thousands of homes. But with the help from all over the nation, life in Zhouqu County is gradually getting back on track.
The girl distributing water along the street is named Yan Xiyun.
The 15-year-old comes from Zhaizi Village, Zhouqu County.
Her home was struck by devastating mudslides, but she has been voluntarily carrying 10 liters of water 5 kilometers every day, to distribute to passersby.
And she's only one of the four-thousand local residents contributing their share to the rescue work.
Although the region has been hit by the worst mudslide in the past six decades, people's lives are slowly returning to normal, due to efforts from both outside and within.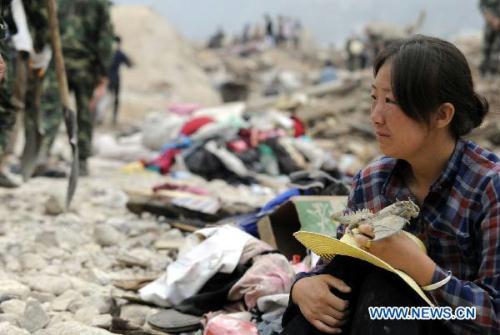 Hui Guoqin holding her father's belongings waits on ruins and wish for the
good news of her missing parents and sister-in-law in the landslides-hit
Zhouqu County, Gannan Tibetan Autonomous Prefecture in northwest China's
Gansu Province, Aug. 11, 2010. The death toll in the massive mudslide in
Zhouqu has risen to 1,117, with 627 still missing, local authorities said
Wednesday. (Xinhua/Tao Ming)
Twenty-nine shops have reopened across the county.
One storekeeper says she's working to make sure everyone can get what they need.
Shang Yan said, "Prices have remained the same, and more goods are on the way."
At a press conference held on Wednesday afternoon, officials from the local health administration said a new phase is about to begin.
Liu Weimin, local health offical, said, "76 wounded people have been transferred to 8 provincial hospitals. Now the focus of our work has shifted from medical treatment to disease prevention."
It has been three days since the disaster hit the area. While rescuers are still looking for signs of life, more attention is also being paid to making sure those who survived the mudslides can rebuild their lives.
Related stories
Editor:Zhang Jingya |Source: CNTV.cn