Watch Video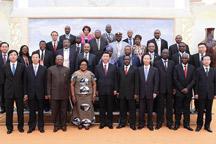 Play Video
African leaders and experts are in Beijing for the first China-Africa Agricultural Forum. Ensuring food security and dealing with soaring food prices are at the top of their agenda.
Agriculture is growing on the African continent. Apart from the current focus on infrastructure and energy, China sees opportunities in its farmlands. Cooperation in this sector is much easier to operate and more in line with Africa's needs.
Niu Dun, Vice Minister of Ministry of Agriculture, said, "We are working with African countries and their governments to overcome the challenge of food security. This is our strategy. This is our common interest."
The minister noted that China is self-sufficient in grain production and therefore has no plan to import the commodity from African countries.
Over the past decade, China has sent over nine hundred farm experts and technicians to Africa. It has also trained more than four thousand agricultural professionals and built fourteen agricultural bases. Total investment has reached 150-billion US dollars.
Kalongzo Musyoka, Vice President of Kenya, said, "During the world food crisis, and more recently the financial crisis, we have seen a true friendship from China. In Kenya we are trying to move from grain-fed agriculture to irrigated agriculture. That way we think we'll be able to achieve self-sufficiency for people in Kenya and the African region."
Grain supply is just as critical as grain prices. A UN report shows that wheat production in 2010 will be much lower than previous estimates. Since June, wheat prices on the global market have surged 50 percent.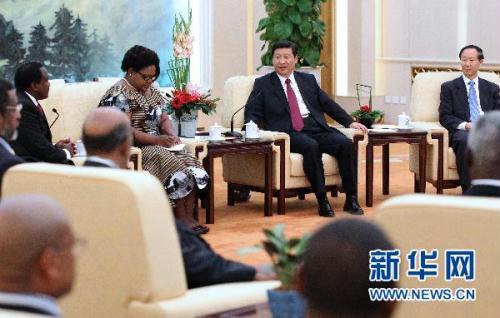 Chinese Vice President Xi Jinping (2nd R) meets with foreign delegates attending
the Sino-African agricultural cooperation forum at the Great Hall of the People
in Beijing, capital of China, Aug. 11, 2010. (Xinhua/Ma Zhancheng)
Joyce Mujuru, Vice President of Zimbabwe, said, "I'm sure that if all our countries.....the prices of food will come down. And this is exactly what we are looking for. Not just food, but the products that we need to develop our industries, to give jobs to our people, so that we cut off the depedence on government or non government organizations."
The two day forum will come up with a joint declaration and the signing of cooperation documents.
CCTV reporter Wang Mangmang said, "Uneven distribution and insufficient grain supply are the first problems to solve as African countries upgrade their economic structure. The hikes in grain prices have already caused unrest. So ensuring food security is a project that China wants to help."
Related stories