Watch Video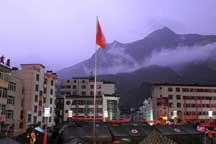 Play Video
As of Wednesday, the death toll from the massive mudslide in northwest China's Gansu Province reached 1178. Another 627 people are missing. The meteorological authority says more rain will hit the area, likely to trigger more landslides. The Ministry of Land and Resources is making preparations to ward off potential dangers.
Strong rain pounded Zhouqu County. The Meteorological Administration says more rain is expected to hit the area. The rain will not taper off until Sunday.
Because of the rain, the water level of the 5-kilometer barrier lake in Zhouqu has risen. The large amount of mud brought by the rain poses increased difficulties for clearing work.
Soldiers carried out FIVE explosions on Thursday, bringing the situation back under control.
The rain is also likely to compound the misery in Zhouqu by triggering more mudslides. To ward off potential dangers, the Ministry of Land and Resources deployed teams of geology experts to canvass the rain-hit areas.
Nine districts have been identified as potentially dangerous. The Ministry is drawing up detailed contingency and evacuation plans for residents in those areas.
Li Zhiheng, director of Gansu province Land & Mineral Bureau, said, "Some places such as Long-miao-gou have a dense population. It will be very dangerous if a mudslide hits."
In Luo-jia-yu Village, north of Zhouqu County, rescue workers have been digging a 5-kilometer-long passage to channel potential floodwaters to the nearby Bailong River.
Li Shuzhou, rescue worker of Gansu province, said, "The project is almost done. It will be able to cope with the strong rain in the next two days and protect villagers from the water."
The Ministry sent another 240 geology experts to investigate the rain-hit areas. They are expected to work out a detailed report on the likelihood and potential risks of geologic disasters of the area by Sunday.
Editor:Zhang Ning |Source: CNTV