Watch Video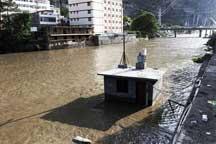 Play Video
Flooding from a barrier lake has been a potential threat to people living downstream of the Bailong River, especially as rain continues to hit Gansu Province.
CCTV reporter Chen Guang said, "I am now standing next to the Bailong River in the Zhouqu County. The area has been hit by two rounds of rain in the past 24 hours. Part of the road next to the river has collapsed. Fortunately, the water level of the barrier lake didn't rise much."
A look at the Yellow River shows the difficulty of controlling it.
Soon after each under water explosion takes place, the mud that runs with the water re-seals the breach.
Now a combination of draining and underwater explosions have solved the problem.
Despite the heavy rainfall, the volume of water in the barrier lake has fallen from 1.5 to 2 million cubic meters to 700,000 cubic meters.
Soldiers working on the river are relieved.
Xiang Xiaomin, Staff officer of Chinese Armed Police in Lanzhou, said, "Judging from the water line, the water has retreated by about 30 centimeters."
Xiang and his soldiers have been working along the river for 4 days.
Their work is to rescue survivors trapped in flooded buildings and help move relief goods.
Due to long time they've spent in the water, their feet have swollen.
Xiang Xiaomin, staff officer of Chinese Armed Police in Lanzhou,said, "The water on the edge of the river bank is so shallow that our boat can not get near it. So we have to carry people ashore."
Xiang says they are prepared to continue for several more days to come, and the good news is waterproof boots have finally arrived.
Editor:Zhang Ning |Source: CNTV