Watch Video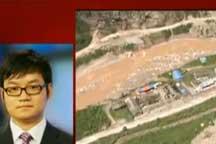 Play Video
Since Thursday, 13 people have been killed and another 59 are still missing after landslides in Sichuan province. Officials estimate just over half a million people have been affected by the disaster with 20-thousand evacuated. Full Story>>
We are joined now by our reporter Shen Le, who has just arrived in the city of Mianzhu, one of the places most severely hit by the landslides.
Q1: What's the latest on the situation in Qingping County, and the city of Mianzhu, after Friday morning's major landslide?
Q2: How are local residents coping with the difficulties in the aftermath of this disaster? What have the authorities there done to help the area's inhabitants?
Editor:Zhang Ning |Source: CNTV