Watch Video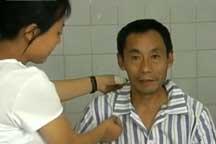 Play Video
Victims of the mudslides that hit the city of Mianzhu are receiving medical treatment at local hospitals. Affected residents have been relocated to safer areas. Andrew Dupuis takes a look at how these individuals are getting along.
This is Mianzhu People's Hospital.
Those injured by the mudslides have been transferred here. Thanks to the disaster warning by local authorities, many of the residents had already taken precautionary measures. As a result, most of those hospitalized only suffer from minor wounds.
Zhang Qin, vice president of Mianzhu People's Hospital, said, "We have received 32 people, half of them just have some bruises and will be all right soon."
Meanwhile, post-trauma counseling is also a priority.
Psychologists are doing their best to encourage them to speak about their pains in order to put their grief behind.
Dr. Gao Xiangqiong, Mianzhu People's Hospital, said, "They are able to deal with the disaster because they experienced the Wenchuan Earthquake."
Those who have been relocated have been taken to a secure location where items like medicine are provided for free.

Editor:Zhang Ning |Source: CNTV