Watch Video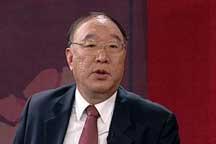 Play Video
Hukou reform in Chongqing Municipality is one of the most eye-catching attempts in the nation's big cities, and various opinions on the policy have been expressed since it was initiated. My colleague Xu Zhaoqun interviewed the city's mayor for more insight into the process, and the ideas behind it.
Mayor Huang Qifan describes the five rights of the hukou as "five clothing items" that migrant workers will have after they register as urban residents.
Chongqing mayor Huang Qifan said, "Once they become urban residents, they will immediately put on the `five clothing items,` and their `three clothing items` in the countryside ... their contracted land, their forest, and their housing land ... will remain for at least three years. They can choose to sell them or to keep them."
The mayor presents five points in the reform's significance ...
To guarantee the interests of those who work in the city without urban residency ...
To improve productivity in the rural area by transferring the spare labor force to the urban area ...
To improve the structure of the urban population and alleviate the pressure of an aging society ...
To expand domestic demand ...
And to speed up the process of urbanization.
The mayor doesn't agree with the opinion that the government is trying to obtain land by granting hukous to migrant workers.
Huang Qifan said, "Members of the new generation in the countryside don't have their own contracted land. Nor do the students. They can also get urban hukous. They deserve the `five clothing items.` These `clothes` are not obtained by giving up their rights in the countryside."
700,000 out of the three million people in line for urban residency are young students. Two percent of the three million are migrant workers from other provinces.
Huang Qifan said, "Urban residency is what they deserve. They should receive the same treatment as other urban residents. This is a matter of equality, a matter of justice, and a matter of the construction of a harmonious society."
Huang says the experience of Chongqing's hukou reform should be exemplary.
Editor:Zhang Ning |Source: CNTV