Watch Video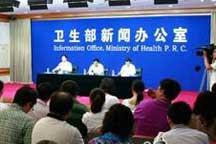 Play Video
China's Health Ministry has announced the results of an investigation into claims a brand of infant milk powder caused three babies in Hubei province to grow breasts. The Ministry says it has found no link between the powder and the babies, giving the company involved the all clear.
After days of probes, the Ministry of Health has given an authoritative answer to a milk safety scandal that has prompted panic among parents.
Chinese Health Ministry spokesman Deng Haihua said, "After analyzing the test results on the related products and infants, experts from the Health Ministry found no links between an apparent breast growth in three infants from Hubei province and the Synutra milk powders."
The baby girls were reportedly starting to develop breasts prematurely. Their parents took them to hospitals earlier this month. Similar cases were also reported in five other provinces and municipalities.
Concern among the public triggered a state-level investigation.
The Health Ministry says the country's top disease control and quarantine experts were involved in the investigation. They tested 42 samples of the Synutra milk powder, including some from the families' homes in Hubei.
Deng Haihua said, "Researchers found nothing abnormal about the amount of hormones contained in the milk powder from Synutra and other brands after testing samples from 20 producers."
But, questions remain on why the three baby girls are developing so prematurely. Experts say they are going through "minimal puberty", which is usually seen among infant boys up to six months, and girls up to two years. Those sensitive to hormone secretion could grow breasts.
Experts say there is no sign the number of these kind of cases is increasing.
But, it has once again raised public awareness on the milk powder safety issue. Some say a nation-wide regulation and quality standards on the hormone content of dairy products is urgently needed.

Related stories
Editor:Zhang Ning |Source: CNTV