Watch Video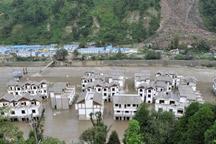 Play Video
13 people have been killed and another 59 others are still missing after landslides struck Southwest China's Sichuan province. Officials estimate over 5.7 million people have been affected by the disaster.
Landslide debris and rubble has blocked Minjiang River and formed two barrier lakes. They then submerged the newly rebuilt Yingxiu township in Wenchuan. That was the epicenter of the devastating earthquake in 2008. Now, the county is suffering its second major natural disaster in just a couple of years.
Work crews use explosives to clear the debris and rubble blocking the Minjiang river, forming two barrier lakes.
The two barrier lakes had triggered raging flood waters to inundate the newly rebuilt Yingxiu township. A community just getting back on its feet after the tragic 2008 earthquake which flatted almost everything.
But, for the second time in two years, the 8-thousand villagers had to run for the lives.
Local authorities quickly sent in rescue teams to clear the debris and save those trapped.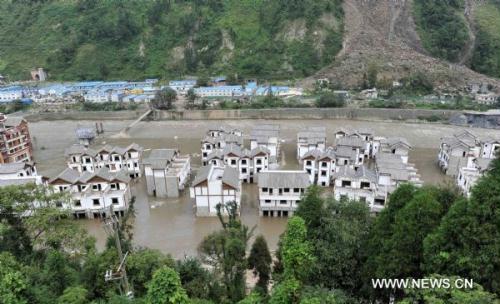 The water level of the Minjiang river, which savaged Yingxiu Township, gets lower
in Wenchuan County, southwest China's Sichuan Province, Aug. 15, 2010. At least 31
people were missing after rain-triggered floods and landslides ravaged Wenchuan
County early Saturday. Measures have been taken to carry on disaster relief work.
(Xinhua/Chen Kai)
A rising water level posed the biggest threat during rescue operations.
Many Rescue workers used tightropes to transfer the victims to safety one by one.
After saving the trapped, the next priority was to clear the debris. Tens of excavators are working around the clock to clear and remove the barrier lakes.
To speed up progress, military troops have come to use explosives.
Tuesday's work was successful. Authorities have now released two-third of flood waters, the level has now dropped to 1 meter.
Soldier Liu Zhiyong said, "The effect of the explosion was good. We have planned a series of more explosions to clear all debris."
Officials say after all of the flood water has been drained from the barrier lakes, rescue teams will widen the river bank to prevent it from becoming blocked again.
Related stories