Watch Video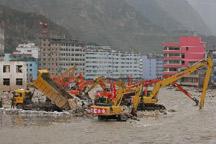 Play Video
In Zhouqu county, where the clearing of a barrier lake along the Bailong river has become a priority for rescuers. Some progress has been made that will significantly speed up the flow of the river in the coming days. Reporting along the Bailong river, my colleague Wang Guan explains why it's so important to clear the barrier as soon as possible.
Wang said, "Although more heavy rain was forecasted, it never came. But the water level here at Bailong river is still well above the warning line.
This used to be a park where local residents could take a walk and relax in the evening. But now it sits under water.
Over there was Chengguan bridge, a major link conncecting the county's northern and soutern areas. Now you can hardly tell it's a bridge.
All this was caused after the downstream of the Bailong RIver was blocked by the mudslide. We've been told that excavators are making new progress there. So let's go check it out."
Ater we arrived, we saw many excavators working around the clock, thanks in a large part to the reclaimation of the submerged bank.
Sand bags and rocks have helped extend the bank another 10 meters towards the Bailong river. Accoding to local hydroelectric authorities, they now have 80 bulldozers on the site, doubling the number two days ago.
More significantly, a steel structure was laid across the river to act as a temporary bridge, so excavators can cross the river to work on the other side.
Related stories