Watch Video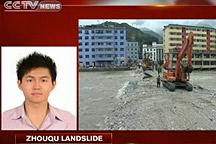 Play Video
Updates: Clearing waterway makes breakthrough in Zhouqu county
In Zhouqu county, where the clearing of a barrier lake along the Bailong river has become a priority for rescuers. Some progress has been made that will significantly speed up the flow of the river in the coming days. Full Story>>
For the latest on relief efforts in Zhouqu County, we're joined on the phone by our reporter, Wang Guan who is in the disaster zone.
Clearing work underway in Zhouqu
1: We just heard in your report: clearing work by heavy machinery and workers is progressing along well. Why is this task so important and can you update us on how it's going?
Residents' lives getting back to normal
2: We know reconstruction efforts are moving ahead at full speed so local residents can get their lives back to normal. Can you tell us all about that?
Editor:Zhang Jingya |Source: CNTV.cn