Watch Video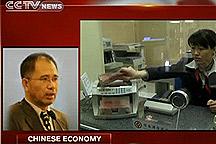 Play Video
Background: Chinese GDP surpasses Japan in Q2
A report by the Japanese Government shows that China edged past Japan in Gross Domestic Product in the second quarter. Economists predict that China will probably maintain its lead over Japan for the duration of 2010. Full Story>>
Fore more analysis on China's GDP growth, we are joined by Professor Liu Baocheng, from the University of International Business and Economics.
What does the economic data indicate?
1. Good evening, Professor Liu. China's GDP surpassing Japan's has drawn wide attention. There has been extensive coverage of the news around the world. Why is it so eyecatching? What does it indicate?
China's economic challenges
2. Many economists insist that China still faces lots of challenges in its economic development. What are they?
What responsibility should China shoulder?
3. In light of the new data, several countries have called on China to shoulder more responsibilities in the international arena. What do you think of that?
Editor:Zhang Jingya |Source: CNTV.cn