Watch Video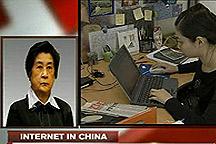 Play Video
Background: Internet expands at rapid pace in China
The Vice Minister of Industry and Information Technology has called the Internet, the engine boosting China's economy. Xi Guohua made the comments at the 2010 Internet Conference in Beijing. Full Story>>
For more on China's Internet boom, we are joined by Hu Qiheng, Chairperson of the Internet Society of China.
Why is real-name registration important?
1. Good evening Ms. Hu. Real-name registration is now required for some online activities, like online games and shopping. Why is it so important?
How to make internet more accessible?
2. Currently one-third of China's population uses the Internet. Does the Internet Society of China have any plans to make the Internet more widely accessible and how?
Editor:Zhang Jingya |Source: CNTV.cn