Watch Video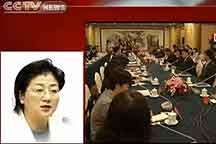 Play Video
Background: Taiwan legislature passes ECFA
Taiwan's local legislature has approved the cross-strait Economic Cooperation Framework Agreement, or ECFA. It's expected to bring closer economic ties between the two sides across the strait. Full Story>>
For more about the approval of ECFA, we are now joined on the phone by the Advisor of the New Party of Taiwan, Joanna Lei. Good evening, Joanna,
1: Can you tell us the reaction from Taiwan over the approval?
2: What will ECFA bring to Taiwan and which industry will benefit most?
Editor:Zhang Jingya |Source: CTNV.cn