Watch Video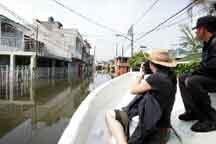 Play Video
Experts are heading to Zhouqu to carry out an on the spot evaluation of the landslide hit area in Northwest China's Gansu Province. This result will be compared with a computer evaluation, hoping to gain a more accurate result.
Experts are checking the San-yan-yu area, which is the source of the landslide. More than 7 million cubic meters of debris blocked the river.
Fan Yida, engineer, said, "Our target is to understand the whole process of the landslide, and check the losses of the residents."
Residents experienced incredible losses. More than 80 houses have been destroyed and this is not a new experience for them. During the 2008 Wenchuan earthquake, their homes were also wrecked.
Fan said, "Our evaluation area is 2 million square meters. We divide it into 59 sections. This is our most detailed evaluation ever."
Right after the landslide, experts evaluated the hit area via satellite. This on the spot evaluation will provide a more comprehensive result. The data will provide solid support for the reconstruction work in the following days.
Related stories
Editor:Zhang Jingya |Source: CNTV.cn