Watch Video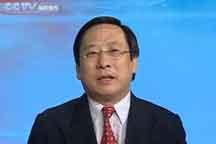 Play Video
Background: World attention to China's GDP surpassing Japan
China has overtaken Japan as the world's second largest economy in terms of gross domestic product, or GDP, in the second quarter. Economists predict that China will probably maintain its lead over Japan for the rest of the year. This has attracted a lot of attention from world media and economists. Full Story>>
To further discuss China's GDP, we are joined by our Current Affairs Commentator Dr. Gao Zhikai. Good evening, Dr. Gao.
1: As we just heard, China surpassed Japan in GDP in the second quarter. Some say it reflects China's growing economic power, others say it is a collective figure. But one thing is for sure, China is still a developing country with many challenges ahead. What's your take on this news?
2: What do you make of the Newsweek opinion article which says China is still far from surpassing the US and a win-win situation is in the best interest of the two countries?
Editor:Zhang Jingya |Source: CNTV.cn