Watch Video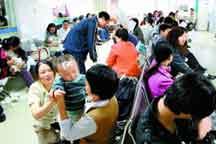 Play Video
Now to a report on Beijing's Children's Hospital where thousands of parents and their kids are lining up everyday waiting to see a doctor. It's been like this since the school summer holidays began. Some parents say it's not uncommon to wait for hours, and that's just to register.
This is Beijing Children's Hospital at 8 o'clock in the morning.
Although, it's been just two hours since the hospital started to register patients waiting to see a doctor, the line is over one kilometer long.
It's almost impossible for one parent to wait in line for so long to register. Most take turns. Some bring in other relatives. But, hours of waiting can sometimes be in vain.
A child's relative said, "I am here for my relative, but I can't register now. There are too many people."
A Beijing resident said, "I am a Beijinger, and it is a surprise to see so many people here."
Many of the parents here are from other provinces. They have come to Beijing because their children's disease can't be treated at their local hospital.
To make matters worse, some of them have to wait more than a week to see a doctor.
A parent said, "We went to the local hospital, but the results weren't satisfactory. So, we have come to the Beijing Children's Hospital. We came very early, but I don't think the kid can see the doctors today."
Authorities say they are making every effort to solve this problem. But, in the meantime, residents are advised to arrive at the hospital at different times.
Zhao Chengsong, Beijing Children's Hospital, said, "We advise people not to go to hospitals in the morning because it is the busiest time. It's better if people come in the afternoon because there is less people at that time."
Beijing Children's Hospital can handle up to 5-thousand people patients everyday, however this summer, there's been almost double that amount, leading to the temporary overcrowding issue.
Editor:Zhang Jingya |Source: CNTV.cn